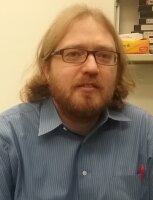 Office Hours
2022-2023: No office hours while on SLCL Dissertation Completion Fellowship

PhD Candidate
Teaching Assistant
Co-director of the Future of Trauma and Memory Studies Reading Group
Kaffeestunde Coordinator
Biography
John is originally from the St. Louis area.  He completed his undergraduate education at Missouri State University with a Bachelor of Science in Education (German). After that, he was a teaching assistant in Austria through the Austrian-American Fulbright Commission and after ten years of teaching high school German he has completed his M.A. at the University of Illinois Urbana-Champaign. Now John is working towards a PhD also at Illinois.  
John has taught German 101, 102, 103, 104, 211, and 251 in addition to being the course coordinator for German 103 during the academic year 2016-2017 as a teaching assistant at Illinois. He aspires to continue teaching German in the future in any setting possible including high school, community college, university, on-line tutoring, etc.. Since his arrival at the U of I Fall 2015, John has played a major role in the organization of Kaffeestunde (the weekly German conversation hour at Illinois). He studied at the Universität Greifswald during the 2017-2018 academic year where he taught a literature discussion section each semester with Zachary Hader. John passed preliminary examinations during the 2019-2020 academic year and as a result has ABD status. Now he is writing his dissertation about post-1989 German literature.
Conferences and Presentations (Literature and Culture)
"Deconstructing National Narratives in Jenny Erpenbeck's Gehen, ging, gegangen." Third Annual Holocaust, Genocide, Memory Studies Conference, The University of Illinois, Urbana, IL, September 4th, 2020.
"Space, Emotion, and Social Relationships in Jenny Erpenbeck's Gehen, ging, gegangen (2015)." NeMLA session Migration und Heimat, Marriot Copley Place, Boston, MA, March 5th-March 8th, 2020.  
"The Light/Fading Light of Hope for Utopia: Sunsets in Christa Wolf's Der geteilte Himmel (1963) and Eugen Ruge's In Zeiten des abnehmenden Lichts (2011)." Graduate Student Conference Utopia Reconsidered 100 years after Weimar, Yale University, New Haven, CT, February 15th and 16th, 2019.   
"Beleidigungen und Vorwürfe: über die Abwertung der (ehemaligen) DDR-Bürger_innen vor, während, und nach der Wende in Thomas Brussigs Am kürzeren Ende der Sonnenallee (1999) und Christa Wolfs Stadt der Engel (2010)." German Studies Graduate Student Conference, The University of Wisconsin, Madison, WI, November 9th and 10th, 2018.    
"Solidarität gegen Kriminalität in der DDR Fernsehserie Blaulicht." Focus on German Studies Graduate Student Conference. The University of Cincinnati, Cincinnati, OH, September 15th and 16th, 2018.
"Rückblick in die Zukunft: zukunftsorientierte Nostalgie in Post-DDR-Literatur." Kolloquium für Neuere Deutsche Literatur, Universität Greifswald, Mecklenburg-Vorpommern, 9. Mai 2018.
"The End of Life in Christa Wolf's Final Novel Stadt der Engel."  German Studies Graduate Student Conference on Narrative Endings, Cornell University, Ithaca, NY, November 11th and 12th, 2016.
"Mephistopheles, Faust, and the Peak of the Brocken on Walpurgisnacht:  Goethe's Use of Symbolism in Faust I's Walpurgisnacht Scene."  Focus on German Studies Graduate Student Conference, The University of Cincinnati, Cincinnati, OH, September 16th-18th, 2016.
Conferences and Presentations (Basic Language Pedagogy)
"Establishing Familiarity with Vocabulary: A Reading Comprehension Strategy." CLIC Language Teaching Share Fair, The University of Illinois, Urbana, IL, November 1st, 2019. 
"The Review Minute."  CLIC Language Teaching Share Fair, The University of Illinois, Urbana, IL, November 4th, 2016.   
Research Interests
Intercultural Utopia, Migration, Post-1989 Literature, Second Language Pedagogy
Additional research interest and responsibility on campus
HGMS: Co-director of The Future of Trauma and Memory Studies Reading Group 
Research Description
 While traditional, exclusionary concepts of Heimat (home; homeland; belonging) remain relevant in the post-1989 German public sphere, my dissertation demonstrates that certain contemporary German novels envision a more inclusive, intercultural idea of home. Until now, the vast majority of work that has productively scrutinized conservative beliefs associated with the term Heimat has often condemned without acknowledging the human need for a sense of community (e.g. Blickle Heimat). My dissertation is critical of Heimat's conventional imaginary against perceived Others, but transcends the Heimat/Anti-Heimat binary by analyzing literary instances of a multicultural, social sense of refuge. I contrast these examples of intercultural utopia featuring open belonging with enclosures in present-day society such as gated communities that perpetuate solipsism and isolation. The instances I analyze of both inclusive and exclusionary conceptions of home stem primarily from four novels published between 2000 and 2015. My project shows how post-1989 physical barriers prolong exclusionary sentiments of the right, and how the Berlin Wall conveyed certain pre-1989 illusory notions by the left of insulation from global capitalism. Hence, I illustrate that Othering by creating a pretense of separation alienates relations between geographically constructed social groups.
Building upon scholarly geocritical conversations, my project helps to denaturalize the culturally hegemonic artifice of separate places by reviving pre-1989 leftist ideas of international solidarity, while disapproving of separators from both the left and the right. Highlighting the fluid lines of belonging featured in four exemplary literary works, my project rethinks Heimat from a critical, yet hopeful perspective. Moving beyond antagonistic dichotomies of good vs. evil and victim vs. perpetrator, these literary examples show how acknowledgment of another's unique challenges can interpersonally establish collective responsibility. In analyzing these illustrations of a radically new cross-cultural, intersubjective concept of open inclusion, my project provides insight toward establishing more all-embracing notions of home.      
Education
PhD, German Literature and Culture, University of Illinois (dissertation defense April 2023)
M.A., German, University of Illinois (May 2017)
B.S., German Education, Missouri State University (May 2004)
Grants
2022-2023 SLCL Dissertation Completion Fellowship
Summer 2019 Departmental Summer Fellowship
2018-2019 Max Kade Fellowship
Awards and Honors
Fall 2020 Ranked as excellent by students (GER 211)
Spring 2019 Ranked as excellent by students (GER 101)
Ernst Alfred Philippson Graduate Research Travel Award (Spring 2018)
Ruth E. Lorbe Excellence in Teaching Award (2017)
William W. and Imelde D.V. Langebartel Award: intended for student who plans to study or research abroad (2017)
Fall 2016 Ranked as excellent by students (GER 103)
Delta Phi Alpha (German Honors Society) (2016)
Fall 2015 Ranked as excellent by students (GER 101)
Courses Taught
Beginning German I: GER 101 (Fall 2015) (Spring 2019)
Beginning German II: GER 102 (Summer 2016) (Summer 2017) (Fall 2019) (Spring 2021)
Intermediate German I: GER 103 (Spring 2016) (Fall 2016) (Spring 2017) (Fall 2021) (Spring 2022)
Intermediate German II: GER 104 (Summer 2016) (Summer 2019) (February 2021: 2 weeks as substitute for colleague on parental leave) 
German Conversation and Writing I: GER 211 (Fall 2020) (Fall 2021)
The Grimms' Fairy Tales in Context (Discussion section): GER 251 (Spring 2020) 
Übung Deutschsprachige Literatur seit 1989 at Universität Greifswald (Winter 2017/18)
Übung Aufbaumodul III Neuere Deutsche Literatur at Universität Greifswald (Sommersemester 2018)
Recent Publications
Slattery, John. "Heimat Re-rooted: Migration and an Intersubjective Home in Jenny Erpenbeck's Gehen, ging, gegangen." Heimat and Migration: Reimagining the Regional and the Global in the 21st Century. De Gruyter. Forthcoming manuscript already reviewed and under final revision.