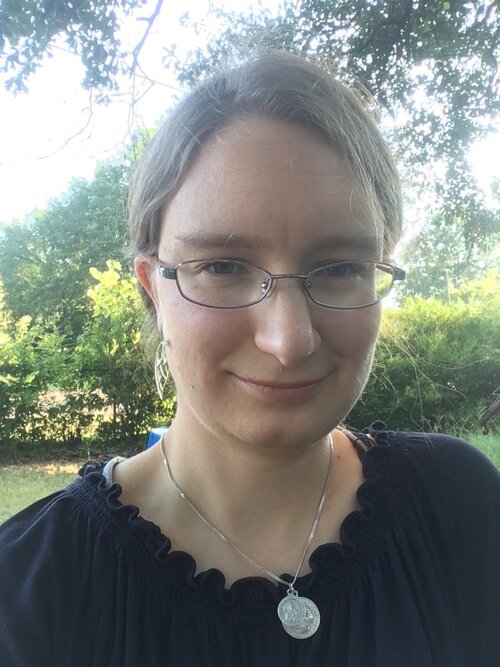 Office Hours
Fall 2022:
Wednesdays 1-3pm, or by appointment.
PhD Candidate, Teaching Assistant
Biography
Stephanie is a PhD candidate in the Department of Comparative and World Literature, specializing in German and French. She earned her MA from the University of Regensburg in 2015 with a thesis exploring the influence of Jewish biblical interpretation (midrash) on Thomas Mann's Joseph und seine Brüder.
Her current research is focused on the movement known as the renouveau catholique, or Catholic Revival, in late 19th and early 20th century France and Germany. Her dissertation works with texts from both countries, investigating how novelists who consciously cultivated a religious authorial persona engaged the issues of suffering, the individual in community, and narratives of cultural pessimism and decadence in their fiction.
Stephanie has taught for both Comparative and World Literature and Germanic Languages and Literatures. She has a passion for maintaining the humanities as a community for encounter, both between students of different backgrounds, and between contemporary readers and ideas from other times and places. Because foreign languages are key to this vision, she also obtained a Certificate in German Foreign Language Pedagogy from the University of Regensburg in 2015.
Awards and Honors
University of Illinois Graduate Teaching Certificate, 2016
Ruth E. Lorbe Excellence in Teaching Award, 2019
Courses Taught
GER 101: Beginning German 1
GER 102: Beginning German 2
GER 103: Intermediate German 1
CWL 151: Cross-Cultural Thematics: Religion and Science Fiction
CWL 241: Early Masterpieces of Western Culture (Advanced Composition)
CWL 242: Modern Masterpieces of Western Culture (Advanced Composition)
GER 251: Grimms' Fairy Tales in Context
SCAN 251: Viking Mythology
LAS 291/292: Global Perspectives in Study Abroad