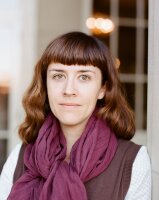 Office Hours
Spring 2021:
By appointment
Via Zoom
Please email to set up an appointment
Biography
Verena Höfig received her M.A. degree from Ludwig-Maximilians Universität in Munich, Germany and her Ph.D. from the University of California, Berkeley. She also studied at Háskóli Íslands in Reykjavík, Iceland and spent several summers in Uppsala, Sweden and on archaeological field sites in Scandinavia.
Research Interests
Viking Age and Medieval Scandinavia, Medieval Germany, Cultural Memory, Material Culture, Nationalism, Gender Studies, Post-Humanism and Animal Studies
Education
Ph.D. University of California, Berkeley
Additional Campus Affiliations
Assistant Professor, Program in Medieval Studies
Assistant Professor, History

Recent Publications
Höfig, Verena "'Re-Wild Yourself': Old Norse Myth and Radical White Nationalist Groups in Trump's America". and Meylan, Nicolas Rösli, Lukas (ed.). Old Norse Myths as Political Ideologies: Critical Studies in the Appropriation of Medieval Narratives. Acta Scandinavica: Aberdeen Studies in the Scandinavian World. Turnhout: Brepols Publishers. 2020, 209-231. https://doi.org/10.1484/m.as-eb.5.120094
Höfig, Verena. ""Births, Belts, and the Brísingamen"". Viking and Medieval Scandinavia. 2019, 15. 127-150.
Höfig, Verena ""Vinland and White Nationalism"". and Machan , Tim William  Helgason, Jón Karl (ed.). From Iceland to the Americas: Vinland and Historical Imagination. Manchester University Press. 2019, 77-100.
Hoefig, Verena Jessica. "The Legendary Topography of the Viking Settlement of Iceland". Landscapes: Journal of the International Centre for Landscape and Language. 2018. 8(1).
Höfig, Verena. "A Pre-Modern Nation? Icelanders' Ethnogenesis and Its Mythical Foundations". Scandinavian Studies. 2018, 90(1). 110-132. https://doi.org/10.5406/scanstud.90.1.0110