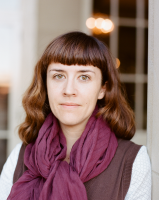 Contact Information
FLB 3123
Office Hours, SP19: By appointment only
Biography
Verena Höfig received her M.A. degree from Ludwig-Maximilians Universität in Munich, Germany and her Ph.D. from the University of California, Berkeley. She also studied at Háskóli Íslands in Reykjavík, Iceland and spent several summers in Uppsala, Sweden and on archaeological field sites in Scandinavia.
Research Interests
Viking Age and Medieval Scandinavia, Medieval Germany, Cultural Memory, Material Culture, Nationalism, Gender Studies, Post-Humanism and Animal Studies
Education
Ph.D. University of California, Berkeley
Additional Campus Affiliations
Assistant Professor, Program in Medieval Studies

Recent Publications
Höfig, Verena "Remembering Origins"., Glauser, Jürg Hermann, Pernille Mitchell, Stephen A (ed.). Handbook of Pre-Modern Nordic Memory Studies: Interdisciplinary Approaches. De Gruyter. 2018, 762-768. https://doi.org/10.1515/9783110431360-085
Hoefig, Verena Jessica. "The Legendary Topography of the Viking Settlement of Iceland". Landscapes: Journal of the International Centre for Landscape and Language. 2018. 8(1).
Höfig, Verena. "A Pre-Modern Nation? Icelanders' Ethnogenesis and Its Mythical Foundations". Scandinavian Studies. 2018, 90(1). 110-132. https://doi.org/10.5406/scanstud.90.1.0110
Höfig, Verena . "Review: M.D.J. Bintley and T.J.T. Williams' (eds.) Representing Beasts in Early Medieval England and Scandinavia". Journal of English and Germanic Philology. 2017, 116(3). 373-377. https://doi.org/10.5406/jenglgermphil.116.3.0373
Hoefig, Verena Jessica "Foundational Myth in Sturlubók: An Analysis of the Tale of Ingólfr and Hjörleifr"., Nordal, Guðrún Sigurðsson, Jón Viðar Jakobsson, Sverrir (ed.). Sturla Þórðarson (1214-1284): Life and Legacy. Leiden: Brill. 2017, 70-82.