Welcome to the Department of Germanic Languages and Literatures at the University of Illinois at Urbana-Champaign. Distinguished by its broad range, its long history, and its award-winning faculty, the department teaches German and Scandinavian languages and offers courses in literary and cultural studies from the Middle Ages to the present, in historical and applied linguistics, and in film studies and critical theory. Our students and faculty take advantage of one of the greatest academic libraries in the country.
Diversity [Statement on Diversity] of academic pursuits, cultures, and people is part of the fabric of the Department of Germanic Languages and Literatures. The department is committed to providing a healthy, safe, and secure space for analytical and critical thinking, teaching, research, and innovation that fosters a community of global citizens prepared to make important contributions to society.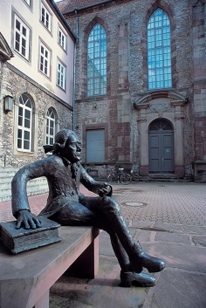 The department provides undergraduate students with excellent training in all aspects of German and Scandinavian languages and an in-depth understanding of the cultures expressed in these languages. Through varied course offerings, students have the chance to explore the history and structure of the languages and their multifaceted use in literature, culture, and business. They gain an understanding of the significance of the German and the Scandinavian traditions while developing their critical and analytical skills in those languages and in English. The well-established and highly successful Illinois in Vienna program provides a study-abroad opportunity that is optimally synchronized with the departmental offerings and requirements. Instructors in the undergraduate program have won departmental, college-wide, and campus-wide teaching awards. Our course offerings are supplemented by regular conversation groups in German and Scandinavian languages, the monthly Deutscher Filmabend, and by extracurricular events organized by the student-run Deutschclub. Membership in the local chapter of the national German honorary society, Delta Phi Alpha, is also possible. Students can obtain a Bachelor of Arts in one of the following tracks: German and Commercial Studies, Modern German Studies, Language and Literature, Language Studies, and Scandinavian Studies. We train future high school teachers of German, offering a B.A.T. degree. The department also offers a 5-year combined B.A./M.A. degree and a combined B.A.T./M.A. degree.
The graduate program of the Department of Germanic Languages and Literatures offers both M.A. and Ph.D. degrees in German. M.A. students receive in-depth training in all areas of German language and literature. Ph.D. students specialize in literature, cultural studies, or in linguistics. They also have the option of incorporating Scandinavian languages, literature, and cultures. Students are further encouraged to take advantage of the rich and interdisciplinary offerings of the university. They may supplement coursework in the Department with study in other departments and programs such as the Program in Medieval Studies, the Program in Comparative Literature, the Unit for Cinema Studies, the Unit for Criticism and Interpretive Theory, the Women's Studies Program, the Program in Jewish Culture and Society, the Program in Second Language Acquisition/Teacher Education [SLATE], or the Department of Linguistics. Students can obtain minors or certificates from these various programs. The department provides graduate student instructors with solid pedagogical training to take on diverse teaching assignments within the curriculum, ranging from beginning to advanced levels of German and Swedish language instruction to literature/culture courses in English. Our graduate students are fully funded with competitive teaching assistantships and fellowships, and they are regularly funded for study and research abroad. Our graduate students' excellent training is reflected in their outstanding job placements.
The department regularly wins funding from the Max Kade Foundation, the Humboldt Foundation, the German Academic Exchange Program, Fulbright, and the Swedish Institute. Each spring, we host a Distinguished Visiting Max Kade Professor. We have an active intellectual climate with a lecture series and program of regular conferences and workshops. Welcome to our community!