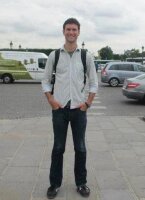 PhD Candidate, Teaching Assistant
Biography
Jeff is currently a PhD student in the Department of Germanic Languages and Literatures. He earned his MA from the University of Illinois in 2011, with a paper investigating sexual politics in Wolfgang Amadeus Mozart's Die Zauberflöte.  
His dissertation research focuses on intersections between literature, visual art, music, and philosophy in the aesthetic landscape of early 20th-century Germany and Austria. Specifically, he is interested in the concept of intermediality, which, loosely defined, refers to the borrowing of techniques, perspectives, and practices across traditional genre and media lines. He has been awarded a Max Kade Fellowship for the 2014-2015 academic year to further this project.
Aside from research, Jeff is also heavily involved with literary translation, which he has pursued for the past several years as a student at the UIUC Center for Translation Studies, and as a reader / book scout at the Dalkey Archive Press, a non-for-profit publishing house in Texas. His first book-length translation, Wolfgang Hildesheimer's Tynset, was published in 2016. 
Awards and Honors
Ruth Lorbe Excellence in Teaching Award - Spring 2014
Courses Taught
GER 101 - Beginning German I
GER 102 - Beginning German II
GER 103 - Intermediate German I
GER 104 - Intermediate German II
GER 211 - German Conversation and Writing
GER 201 - German Popular Culture