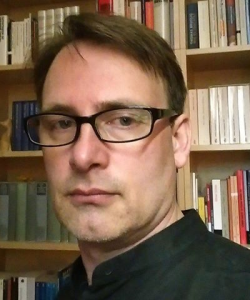 Contact Information
3127 FLB
Office Hours: SP19 TR 2:30-4:00p
Director of Undergraduate Studies
Visiting Assistant Professor
Biography
Robert Jenkins is Visiting Assistant Professor and Director of Undergraduate Studies in the Department of Germanic Languages and Literatures.
Robert regularly teaches courses in literature, culture, translation, and Austro-German cultural influence in the European Union. In addition, he advises German language students in the Illinois exchange program with Vienna.
His research interests broadly include late 19th, 20th, and 21st century German and Austrian literature, specifically Expressionism, New Objectivity, and Avant-garde literary forms. Additional interests include literary translation and translation theory, philosophy of language, cognitive-semiotic approaches to literature, humor, urban-modernism, media studies and audiovisual translation, and concepts of masculinity as circumscribed by popular violence.
Education
Ph.D. Vanderbilt University
Awards and Honors
LAS Academic Professional Award
Courses Taught
Courses Taught Elsewhere (Below)
German Language at all levels
Literature and the Interpretation of Culture
Foreign Language Teacher Education Practicum
Introduction to German Studies (co-taught)