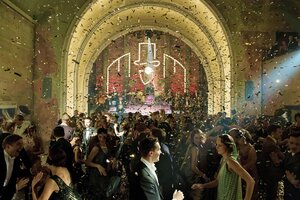 In 1929, Berlin was known to be a hedonistic city of extremes: corrupt wealth existed alongside destitute poverty and an underground world of wild parties and glamour. In this course we delve into the internationally acclaimed television series "Babylon Berlin" to explore the Golden Twenties in Germany. The period began with the end of World War I and came to a close with the Wall Street Crash of 1929, shortly before Hitler's rise to power. The popular 2017 neo-noir series follows two heroes, Gereon Rath, a young police inspector who is on a secret mission to dismantle a crime ring, and Charlotte Ritter, a police clerk by day, and flapper by night. Both get caught up in the show business emerging during the Weimar Republic and the social and political unrest of the time.
Regular reading and writing assignments will prepare students to watch the episodes, discuss the content, and examine the cultural and film historical context. We will draw on sources from literature, art, photography, music and fashion as well as materials in psychology, criminology, filmmaking and so on. Students will advance their skills in cultural-historical analysis and writing. The TV show is in German with English subtitles. All discussions and readings will be in English, no knowledge of German is needed. Students must have access to Netflix and obtain the required readings.
For more information, contact Prof. Anke Pinkert.