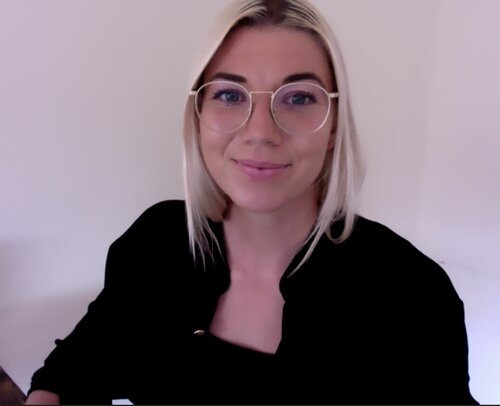 Doctoral Student
IDG Graduate Fellow in the Humanities and Arts
Biography
Laura is originally from Düsseldorf, Germany and came to Illinois in 2020 to pursue her Ph.D. in German Studies. She completed her bachelor's program in Anglophone Studies and French Literature and Culture at the University of Duisburg-Essen (UDE) in Germany, and participated in an academic exchange program with Fort Hays State University in Hays, KS as part of her undergraduate studies. Later, Laura pursued her M.A. in Language Studies/TESL, with a focus on Foreign Language Pedagogy and SLA at Indiana State University (ISU) in Terre Haute, IN. At ISU, she was a Teaching Assistant, and later a part-time instructor for beginning German and ESL Writing Classes.
Coming from an interdisciplinary background, during her bachelor's, Laura focused on the portrayal of the trauma and memory of 9/11 in fiction, and, during her master's, on an analysis of the incorporation of pragmatic elements in German textbooks. She is currently especially interested in comparative studies of (and the discourse about) diversity and identity in contemporary Germany, France, and the United States.
Prior to joining the Germanic Languages and Literatures Department at Illinois, Laura spent four years in Germany, teaching German language classes for academic preparation at the Institut für Internationale Kommunikation in Düsseldorf, and English language classes at the UDE's language institute in Duisburg and Essen.
Having participated in a variety of cultural exchange programs (academic and non-academic) starting with a high school exchange year in the U.S., and later teaching in multicultural classrooms, Laura has a strong interest in intercultural communication and understanding, and in promoting German culture and the German-American friendship/relations through interactive events.
Research Interests
Literature, Media, Culture:
- 20th-21st-century German literature and media
- Postwar and contemporary Germany
- Popular Culture
- Migration studies
- Critical Race Studies
- Gender Studies
- Memory and Trauma Studies
- Holocaust Education
Linguistics:
- Second Language Acquisition
- Foreign Language Pedagogy
- Sociolinguistics
Research Description
My dissertation topic is rooted in very contemporary German literature and media production. I am examining how new German identities are negotiated in fact and fiction. Through a comparative analysis of select narratives by, or centered around, marginalized Germans, I want to highlight and contextualize re-emerging patterns of identity negotiation. I focus especially on how the binaries of German and non-German are contested. One re-emerging pattern I find over and over, for example, is the disidentification with the nation as a crucial identity-shaping factor. My sources are a collection of contemporary identity narratives as told in a novel, a digital interview series, lyrics and a film.
Awards and Honors
Illinois
202-2023 Illinois Distinguished Graduate Fellowship in the Humanities and Arts 

2021-2022 Illinois Distinguished Graduate Fellowship in the Humanities and Arts 

2021 John A. Howard and James Marchand Award

2020-2021 Illinois Distinguished Graduate Fellowship in the Humanities and Arts 
ISU
2016 University College Council Certificate of Recognition for the 2015-2016 Academic Year, A Student-Nominated Award 

2015 Graduate Leadership in Teaching Award, College of Graduate and Professional Studies 

2015 University College Certificate of Recognition for Outstanding Student Support as Nominated by a 1st Year Student             

2015 Outstanding Student Organization Award For Excellence in Global Education                 

2014 Julie Bevilacqua Cutter Memorial Scholarship   



 
Courses Taught
ISU: Teaching Assistant, Part-Time Adjunct Instructor
GERM 101 - Elementary German I
GERM 102 - Elementary German II
GERM 202L - Intermediate German II Lab 
ESL 103 A - English as a Second Language
ESL 103 B - Writing English as a Second Language 
Germany: Language School Setting
German Language Courses, Levels 1-10 (corresponding to CEFR levels A1-C1)
German Language Test Preparation: DSH, TestDaF
Germany: Unversity Setting
English Language Courses, Levels B1 and B2 (corresponding to CEFR levels)
Additional Campus Affiliations
German Club Graduate Liaison
Kaffeestunde Coordinator 
Recent Publications
Book and Technology Reviews
Olbrich, Laura. "Identitti." Book Review of Identitti (2020), by Mithu Sanyal. Die Unterrichtspraxis/Teaching German, 55.4, 07 November 2022, 265-266.
Olbrich, Laura. "Fast ein neues Leben (2020)." Book Review of Fast ein neues Leben (2020), by Anna Prizkau. Die Unterrichtspraxis/Teaching German, 54.2,  29 November 2021, 330-331.
Olbrich, Laura. "MURAL." Software Review of MURAL. Die Unterrichtspraxis/Teaching German, 54.1, 10 June 2021, 150-154.