________________________________________________________________________________________

Verena Höfig
Verena Höfig
Assistant Professor and Undergraduate Advisor (minor) in Scandinavian Studies
E-mail:verena@illinois.edu
Teaching and Scholarship
Dr. Verena Höfig's research focuses on the intersection of literature, material culture, and social history in Scandinavia from the Viking Age until today. This has included identity and memory formation, the political history of early Iceland in the context of overseas migration, frontier narratives, and the representation of animals in Old Norse material and textual culture. Her two current projects explore healing and obstetrics in the pre-Christian North, and the signifying potential of thrones, chairs, and high-seats-pillars. Dr. Höfig teaches courses in Old Norse, Swedish, and topics courses ranging from medieval to modern Scandinavian culture (history, archaeology, mythology, sagas, and the modern reception of Vikings), including links between Medieval German and Scandinavian literature.
Primary languages: Old Norse, Swedish and Icelandic
________________________________________________________________________________________

Theo Malekin
Lecturer in Scandinavian Studies
E-mail: malekin@illinois.edu
Teaching and Scholarship
Dr. Theo Malekin's research interests include Scandinavian cinema, the plays of August Strindberg, Henrik Ibsen and other playwrights from the Modern Breakthrough, and Scandinavian children's literature. He is also interested in the growing interdisciplinary engagement between consciousness studies and literature. He regularly teaches courses on Viking sagas and Viking mythology and has also taught a number of courses on more recent Scandinavian literature and on film. He has also developed a new course on children's literature and youth culture.
Primary language: Swedish
_________________________________________________________________________________________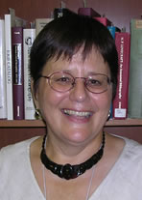 Mara Wade
Professor of Germanic Languages and Literature
E-mail: mwade@illinois.edu
Campus Affiliations
Comparative and World Literature, Gender and Women's Studies, LAS Global Studies, Jewish Culture and Society, Library Admin, European Union Center, Media and Cinema Studies, Center for Global Studies, and the Center for Advanced Study.
Teaching and Scholarship
Professor Wade's teaching and scholarship include topics in early modern German literature, the royal courts of Germany and Scandinavia, book history, cinema studies, Jewish studies, and gender studies. She teaches regularly an undergraduate seminar, "BooksMatter, Book Matters," for the Campus Honors Program at the University of Illinois. She regularly works with international organizations and institutions as well as the Austria Illinois Exchange Program to promote academic exchange. Professor Wade's research has a strong focus on digital humanities, and the international research group associated with Emblematica Online has published widely about their research. She also fosters the research of younger scholars, including recent PhDs, graduate students, and undergraduate students.
Primary languages: German and Danish
Read more about Professor Wade
_____________________________________________________________________________________

Charles Robert Webster
Visiting Instructor
Director of Undergraduate Studies for the Germanic Department
E-mail: cwebste@illinois.edu
Teaching and Scholarship
Charles Webster is the director of the basic language program for German. His research interests and teaching includes Germanic linguistics, second language acquisition, and study abroad, the history of the Germanic languages, methods of language teaching.
Primary languages: German and Norwegian